Additional points from the Global Tax System Panel:
Lagarde: Eurozone recession, not a base case
European Central Bank Governor Christine Lagarde told Bloomberg TV in Davos that a "tipping point" in monetary policy has been reached as the eurozone prepares to leave negative interest rates behind.
Lagarde confirmed his blog post yesterday, saying that the ECB is likely out of negative rates by the end of the third quarter and that the first rate hike will be in July.
Lagarde argued that:
We are not panicking.
Lagarde also countered the notion that the eurozone was entering a recession by saying:
"We don't take it as a benchmark."
[the word on the floor here, though, is that Europe could be heading into recession, especially if a ban on Russian energy is agreed].
Oxfam is pushing to introduce a wealth tax on billionaires and has warned Davos that record global food prices risk triggering social and political upheaval and putting millions into poverty.
Gabriela Bucher, Managing Director, Oxfam International, speaks at a panel on global tax system reform.
She said that in Ethiopia, Kenya and Somalia, one person dies of hunger every 48 seconds. And
Bucher says this is just the beginning and the world isn't raising enough funds to help.
The hunger crisis is growing. Bucher explains that we really need to move, mobilize our resources, and even a slight increase in the tax rate on millionaires will make a big difference.
Billionaires are benefiting from suffering, she added, and the money accumulated by the wealthiest people remains unusable for years.
And for the global deal for the lowest tax rate, Matthias commandSecretary general OECDHe said hopeful and optimistic Europe would implement the second pillar model rule (domestic enforcement of a 15% global minimum tax on multinationals).
Adam Tooze: Nuclear escalation risk not factored in price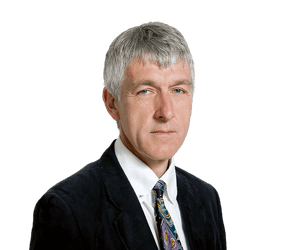 Larry Elliot
Geopolitical competition also draws attention.
Professor Adam Tooze of Columbia University in NYC said he was worried about China because there seemed to be no way out of Beijing's zero lockdown policy.
But Tooz is even more concerned about the escalating Cold War as the Russia-Ukraine war continues.
"The risk of a nuclear escalation has not been factored into the price," Touz said while considering what Vladimir Putin might do next.
He said US politicians are aiming to deprive Russia of its ability to conduct independent military action. This was something they hadn't done in years until the end of World War II and the fall of communism.
"It doesn't feel like the Cold War".
Touz said he wasn't sure how NATO would respond to Russia's use of tactical nuclear weapons, but one thing was certain. It would lead to a monumental global financial collapse.
Introduction: The world's 'prick' as the food crisis deepens
Good morning in Davos.
On the second day of the World Economic Forum (WEF), concerns over a worsening food crisis and economic recession are mounting.
Supply disruptions from the Ukraine war, which closed Black Sea ports, are driving up prices and risking shortages and famine.
Akim Steinermanager United Nations Development Program (UNDP)The world says it's unprepared for what's to come.
"We are in trouble. The war in Ukraine is dramatic in many ways. There is a serious crisis in food, fuel and finance. For now, we have no reason to believe this is a short-term challenge.

We are in the midst of a series of evolving crises and the world is not ready for it.
Steiner said that hunger was probably one of the reasons people were driven into the streets because people lost faith in government when they realized they couldn't afford to support their families.
"What we saw in Sri Lanka will be seen in more and more countries."
Steiner said 200 million people are facing extreme hunger. This is double what it was five years ago. "This is very serious," he said.
Higher energy prices, another result of the Ukraine war, were creating balance of payments problems for many developing countries.
"Wealthy countries have to make decisions. Will they go one step further, or will they let the situation drift?"
Yesterday the head of the IMF Crystalina Georgieva I warned of the unrest around me access to food It is "successful" worldwide at affordable prices.
David beasleyThe head of the United Nations World Food Program has warned that a 'catastrophic hunger crisis' is approaching, with millions facing famine.
European Commission President Ursula Von Der Leyen and NATO Secretary-General Jens Stoltenberg are giving keynotes today on another busy day.
of the program HereThe following are optional.
imitation:
8:45 AM Davos (07:45 AM BST): Together with Oxfam's Gabriela Bucher, Harvard University Economics Professor Stefanie Stantcheva, and OECD's Mathias Cormann to reimagine the global tax system
10am Davos (9am BST): Special Speech by Spanish Prime Minister Pedro Sanchez
10:45 AM Davos (9:45 AM BST): Geopolitical Outlook with Pakistani Foreign Minister Hina Rabbani Khar, Polish President Andrzej Duda, New York Representative Gregory W. Meeks, and Minister José Manuel Albares Bueno Spanish Foreign Ministry, HH Prince Faisal bin Farhan Al Saud, Minister of Foreign Affairs of Saudi Arabia, Pekka Haavisto, Minister of Foreign Affairs of Finland
11am Davos (10am BST): Special Speech by Ursula Von Der Leyen, Chairman of the European Commission
11.15am Davos (10.15am BST): Panel on hybrid work, what's next?
11.30am Davos: Jens Stoltenberg, NATO Secretary-General's Special Speech
11.45am Davos (10.45am BST): Accelerate the road to net zero with IEA's Fatih Birol, John Kerry, Catherine MacGregor and Frans Timmermans.
2:30pm: How to tackle the cost of living crisis
3pm: Energy Security and European Green Deal (including Pedro Sánchez, Anna Borg, CEO Vattenfall, Frans Timmermans, European Commission, Ester Baiget, CEO Novozymes, President of Lithuania)
3:30 PM: Conversation with Microsoft CEO Satya Nadella
4:30 PM Davos (3:30 PM BST): European Security Netherlands Jens Stoltenberg with Andriy Yermak, Head of Administration of President of Ukraine, Belgian Prime Minister Alexander De Croo, Stevo Pendarovski, President of North Macedonia, Kajsa Ollongren, Minister of Defense NATO Secretary-General
5:30pm Davos (4:30pm BST): Bill Gates, Peter Sands, The Global Fund to Fight Aids, Tuberculosis & Malaria, Francis deSouza, Illumina CEO, Helen E. Clark, Paul of WHO, and more Ready Rwanda President Kagame