WTA World No. 1 Iga Swiatek returns as BBC Sports columnist at the French Open. In Paris, she continues her recent dominance and is working to win her second Grand Slam title.
The 20-year-old from Poland, who won her first major at Roland Garros in 2020, enters her favorite clay court grand slam after winning the last 5 tournaments and 28 matches.
After my last column at the Australian Open after losing in the semi-finals in Melbourne, the world has changed dramatically for me. It's been a crazy few months.
After that Grand Slam, I went on to win Doha and Indian Wells and became world number one after Ashleigh Barty's shocking retirement. A few days later I won the Miami Open and also won Stuttgart and Roma.
Winning all these tournaments seems to have exceeded the goals set at the beginning of the year. Like all Grand Slams, Roland Garros is a completely different vibe.
Obviously my position has changed and I look like the one to win. Everyone wants to win the world number one.
A lot has changed since I became number 1 in the world. Most importantly, interest from the courts has increased.
I spend more time talking and interviewing reporters. It's something I really like. But you have to learn how to deal with it.
I always knew it would be part of the job. I wanted to prepare and prepare. The main thing is to get enough mental rest and prepare for the tournament.
The fans' attention was really surprised and even more excited to see that more people are coming to me since I became world number one than when I won Roland Garros.
In Poland I am always recognized and it is hard to find a place where I am not recognized. So when I meet my friends, I usually do it at my house or theirs, which is fine for me.
But when I'm in another country I can be more concealed and I feel that's good.
Every time I go out for a walk or go to the beach, there are people who come to congratulate me.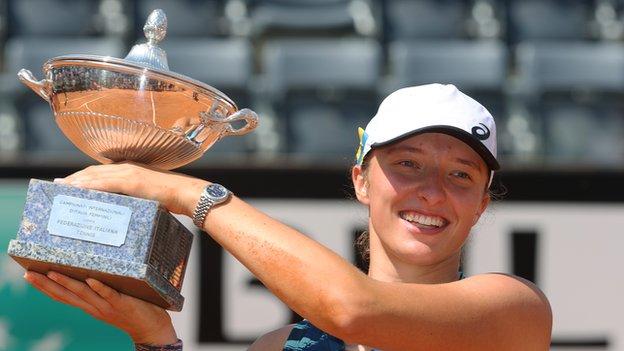 How Mind Work and Tiramisu Travel Can Help You Find Your Balance
When I was young, I never imagined that I would be able to go on a winning streak like this. I am proud of myself and proud of the team.
Compared to two years ago, I feel a lot more confident than when I won the French Open and I have the belief that I can do well. It also seems like you have more experience that you can use now and use it to troubleshoot problems when needed.
That tournament was a breakthrough in mentally letting go of everything. I don't care to the point of loss, I don't think too much about whether I win or lose. So it worked.
Last year I had to prove to myself and to the world that I could repeat good results and I was very happy to make it to the quarterfinals.
It was my first time playing as a defending champion and someone with something to prove. So the quarterfinals were good, but all the tournaments were pretty stressful.
This year, once again, I want to play every game every game without letting go. This year, I have already proven both my performance and skills, and I think I was able to play more safely and comfortably because I got too many ranking points.
I'm not worried about the end of this streak. Of course it has to end someday.
You should prepare not to be surprised, too disappointed, or upset.
Working with psychologist Daria Abramowicz, one of the only full-time psychologists on tour, is key to helping me.
I'm not saying we've changed everything, we like to do the same types of things. But I need more help finding balance and doing things off-court as well as on-court.
I'm going too fast, so the people around me have to go too. Daria is doing so, she is running right next time and she is very helpful.
Without that right balance and her help, I wouldn't have been able to have so much consistency. That's what's important right now. It's all about finding balance.
After winning in Rome, I enjoyed a leisurely meal with tiramisu. It's my favorite treatment.
We have a restaurant near the Vatican that we return to every year and the waiter who always recognizes us brings me flowers. It was a nice gesture.
Celebrating with my team and eating tiramisu is my favorite kind of celebration. I'm not going to the party.
It was a perfect treat and of course I ate it all. Hope those calories don't affect Roland Garros' body shape!


Morph.toInit.bundles.push(function() { !function(e){function t(r){if(n[r])return n[r].exports;var o=n[r]={i:r,l:!1,exports:{}};return e[r].call(o.exports,o,o.exports,t),o.l=!0,o.exports}var n={};t.m=e,t.c=n,t.d=function(e,n,r){t.o(e,n)||Object.defineProperty(e,n,{configurable:!1,enumerable:!0,get:r})},t.n=function(e){var n=e&&e.__esModule?function(){return e.default}:function(){return e};return t.d(n,"a",n),n},t.o=function(e,t){return Object.prototype.hasOwnProperty.call(e,t)},t.p="",t(t.s=3)}([function(e,t){e.exports=React},function(e,t,n){e.exports=n(5)()},function(e,t,n){"use strict";function r(e){return e&&e.__esModule?e:{default:e}}function o(){return this.url}function u(e,t){return e.url.replace("{identifier}",t[1])}var i=r(n(9)),a=r(n(10)),c=r(n(11));e.exports={youtube:{regex:/http(?:s)?://(?:www.)?youtu(?:be.com|.be)/(?:watch)?(?:/?)?(?:.*v=)?(.[^&#]*)/i,url:"https://www.youtube.com/embed/{identifier}",transform:u,component:a.default},twitter:{regex:/^http.+twitter.com/.*/status/(.*)/i,transform:o,component:i.default,cssClasses:"twitter-tweet",componentMount:function(){c.default.twitter()}},instagram:{regex:/^http.+instagr(?:.am|am.com)/i,transform:o,component:i.default,cssClasses:"instagram-media instagram-iframe-container",componentMount:function(e){c.default.instagram(e)}}}},function(e,t,n){"use strict";var r=function(e){return e&&e.__esModule?e:{default:e}}(n(4));Morph.modules["[email protected]"]=r.default},function(e,t,n){"use strict";function r(e){return e&&e.__esModule?e:{default:e}}function o(){if("function"!=typeof WeakMap)return null;var e=new WeakMap;return o=function(){return e},e}function u(e){"@babel/helpers – typeof";return(u="function"==typeof Symbol&&"symbol"==typeof Symbol.iterator?function(e){return typeof e}:function(e){return e&&"function"==typeof Symbol&&e.constructor===Symbol&&e!==Symbol.prototype?"symbol":typeof e})(e)}function i(e,t){if(!(e instanceof t))throw new TypeError("Cannot call a class as a function")}function a(e,t){for(var n=0;n<t.length;n++){var r=t[n];r.enumerable=r.enumerable||!1,r.configurable=!0,"value"in r&&(r.writable=!0),Object.defineProperty(e,r.key,r)}}function c(e,t,n){return t&&a(e.prototype,t),n&&a(e,n),e}function l(e,t){if("function"!=typeof t&&null!==t)throw new TypeError("Super expression must either be null or a function");e.prototype=Object.create(t&&t.prototype,{constructor:{value:e,writable:!0,configurable:!0}}),t&&s(e,t)}function s(e,t){return(s=Object.setPrototypeOf||function(e,t){return e.__proto__=t,e})(e,t)}function f(e){return function(){var t,n=y(e);if(m()){var r=y(this).constructor;t=Reflect.construct(n,arguments,r)}else t=n.apply(this,arguments);return p(this,t)}}function p(e,t){return!t||"object"!==u
//# sourceMappingURL=bundle.js.map;
});